How Cloud Telephone Systems Work
It's really not much different than a traditional phone system, its just that the box is in the cloud instead of in your building. Then instead of using ISDN telephone lines (which are being phased out), you use a single Fibre or Broadband line to run all your virtual telephone lines.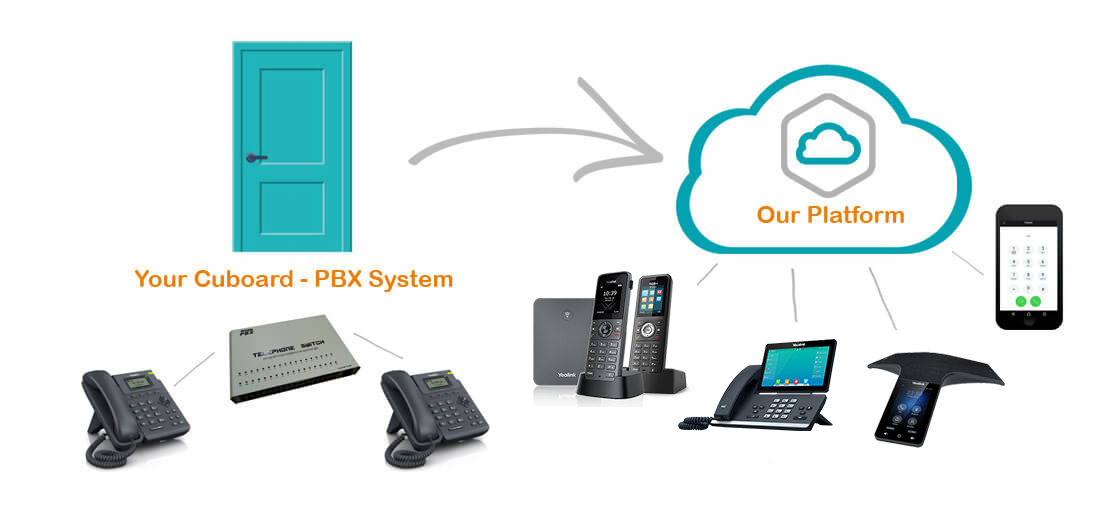 The Connection
The connection is key to the cloud system working. Ensuring resilience and enough bandwidth are important. We recommend a dedicated VOIP fibre or broadband line to run your telephone connections through, these are specially designed to run this service to ensure your telephones stay up and running, although a small company can use their existing fibre to run their phone system on.
We can provide the connection as well as the phone system, so you can be assured you have the right quality of connection. Find out more about our connection options and check your current line speed
Is my line fast enough?
You need approximately 1-2MB per concurrent call on your ADSL/Fibre line. So if you only have 1MB ADSL broadband in your area, you would not be able to use a cloud telephone system. If you have 80MB fibre, you would be able to take up to 80 concurrent calls.
What happens if my line isn't always up?
If your internet connection goes down occasionally this isn't a huge issue. Make sure you install the APP on mobiles phones and the calls will simply start ringing the mobile instead. Your employees would then make calls on the APP which would come under the systems costs (not the employees mobile)
Telephones & Equipment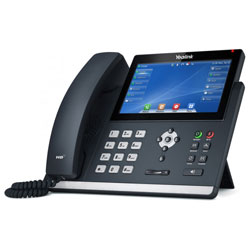 The system also feels just like a traditional phone system. You get to choose from a range of telephones to suit your business, from Desk phones to Portables and even conference pods.
You can choose to buy or rent them depending on how you like to pay. Renting spreads the cost over a period of 3 years.
The phones are all plug and play, they just need an internet connection to work.
Find out more about our phones
Remote working
The system comes with FREE iPhone and Android APP's, these are to enable professional remote working by allowing your users to make and receive calls to their mobiles through the system.
APP Benefits
| | |
| --- | --- |
| Remote workers appear no different than office workers | |
| Mobile users make calls with your company number, not their mobile number | |
| Mobile users use the phone systems call minutes and rates, not their mobiles | |
| For budget set-up and flexible working, no need to buy or rent phones, just use mobiles | |
| Use your full phone system on any mobile if your connection is down | |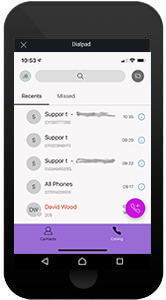 How Remote working works
Your users install the APP and login with their username and password
Their phone then rings like their normal phone
When making calls via the APP, the call number they appear from is your main number (not their mobile number). They also use their own minutes bundle from the system (not their mobile providers)
The App needs a 4g connection or Wi-Fi to work and the App will only accept calls if your connection is stable and of high enough quality.
Watch out for hidden contracts
If you are new to cloud technology, be aware that many companies will try and sign you up to a 5 year contract. This isn't a good idea at the beginning, as if you are not happy with the results, you are trapped in the contract. We offer a contract free system, so you can trial cloud technology and make sure it works for you.