How does a cloud based phone system work?
Configured in the Cloud
A cloud system runs off-site and allows phones or an app to work via your Internet connection. Because it uses an Internet connection, be it Fibre to 4G, you can connect to our cloud system from anywhere in the world, making it easy to work place such as your home. The system passes configuration information to your phones allowing the phones to be configured and updated remotely via our portal.
---
Our Technology
Reliability you can trust
We guarantee 99.9% uptime backed up by our SLA on our robust platform in conjunction with CISCO & Openreach. High call quality, resilience and security is core to our telephone system.
Our cloud-based technology has been developed specifically for the UK, ensuring it meets UK legislation, compliance and security standards.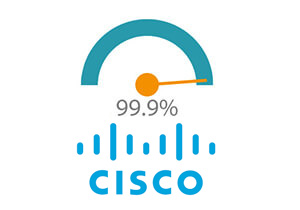 ---
The App
The system includes a free iPhone and Android App and a Mac or PC App. These can be used without physical phones as an alternative, or can be used in combination with phones. They are great for professional remote working by allowing your users to make and receive calls on their mobiles through the system.
App Benefits
Mobile users make calls displaying your company number, not their mobile number
Remote workers and office workers can transfer calls between them
Mobile users use the phone systems call minutes and rates, not their mobiles
For budget set-up and flexible working, no need to buy or rent phones, just use mobiles
Use your full phone system on any mobile if your connection is down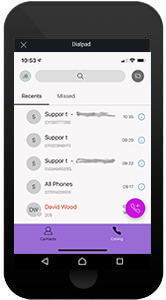 ---
The Phones
While enjoying the latest cloud technology can offer, our phone system can feel just like a traditional phone system too. You get to choose from a range of telephones to suit your business, from Desk phones to Portables and even Conference Pods.
The phones are all plug and play, you simply plug the phone into your network port, or directly into your router. They just need an Internet connection to work and download their configuration directly from the cloud.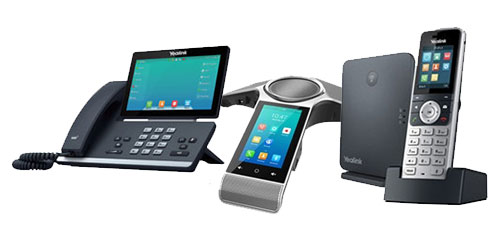 ---
Already have a phone system?
It's really not much different than a traditional phone system, its just that the box is in the cloud instead of in your building. Then instead of using ISDN telephone lines (which are being phased out), you use a single Fibre or Broadband line to run all your virtual telephone lines.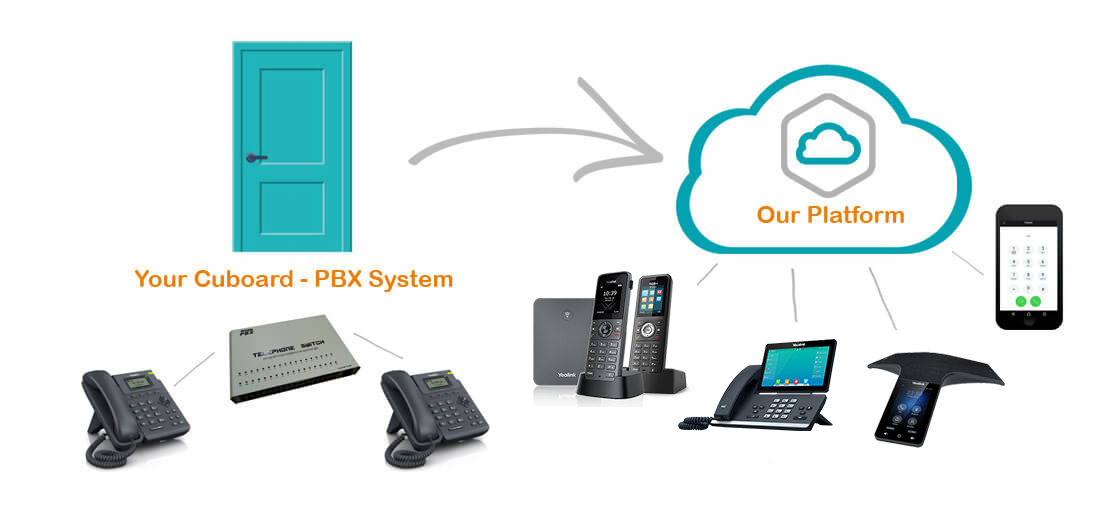 ---
The Connection
The Internet connection is key to the cloud system working. Ensuring resilience and enough bandwidth are important. We recommend a dedicated VOIP fibre or broadband line to run your telephone connections through, these are specially designed to run this service to ensure your telephones stay up and running, although a small company can use their existing fibre to run their phone system on without issue.
We can provide the connection as well as the phone system, so you can be assured you have the right quality of connection.
Find out more about our connection options and check your current line speed
Is my line fast enough?
You need approximately 1-2MB per concurrent call on your ADSL/Fibre line. So if you only have 1MB ADSL broadband in your area, you would not be able to use a cloud telephone system. If you have 80MB fibre, you would be able to take up to 80 concurrent calls.
What happens if my line isn't always up?
If your Internet connection goes down occasionally this isn't a huge issue. Make sure you install the App on mobiles phones and the calls will simply start ringing the App instead, or we can offer 4G backup failover.
Learn more about our phone system