VOIP Phone System for Small Business UK
Better than traditional VOIP, our hi-definition contract free cloud phone system allows your business to be more flexible
---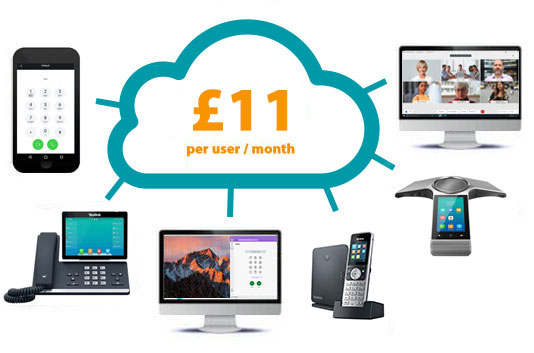 FREE 5000 Minutes Bundle
Get 5000 minutes a month per user of calls to UK 01/02/03 numbers and UK mobiles, FREE with any system ordered! Enough to cover an average businesses call needs!
No Crazy Contracts

We're so confident you'll stay, we don't make you sign a crazy contract, cancel any time! No sneaky price rises & pay the same as a new customer every month!
---
Why is it great for small business in the UK?

You can choose to rent the phones to save on any up-front costs or don't use phones at all.

The system grows with you, so you only need to start off with one user and add or remove users when you need each month.

Your spending each month is a fixed fee, so with the call bundle you can easily budget.

Mobile working is so simple, so you can take and make calls where ever you are, which is perfect for a small business when you are busy.

Our phones auto install themselves so there are no install or setup charges. It's just plug and play.

Our full featured system allows your business however small to look big, with auto attendant, voicemail and much more.
---
Free Mobile & Computer Phone App
The system comes with free iPhone and Android App's along with PC and Mac App too. These are to enable professional remote working by allowing you to make and receive calls to your mobiles through the system. You don't pay for minutes on your mobile, which is a real cost saving.
When anyone calls your main office number, if you are out and about, the App can answer just like you are sat at your desk.
You can even use the App instead of renting or buying a physical phone to save on money.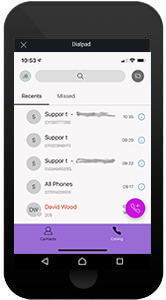 ---
Why Choose TelephoneSystems.Cloud?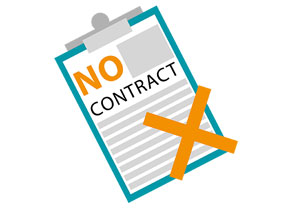 No Crazy Contracts
Fed up of a deal always looking to good to be true? Since we are contract free, you always pay the price on our website, ensuring no hidden price rises. Pay the same as a new customer every month!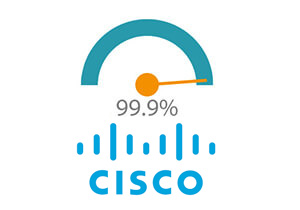 Reliability you can trust
We guarantee 99.9% uptime backed up by our SLA on our robust UK dedicated platform in conjunction with CISCO & Openreach. Monitored and managed 24/7.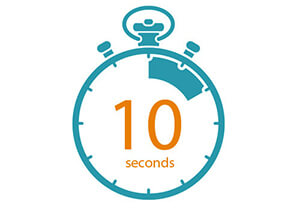 Fanatical About Support
All are calls are answered in less than 10 seconds, why not call us or live chat now and find out how friendly our team are!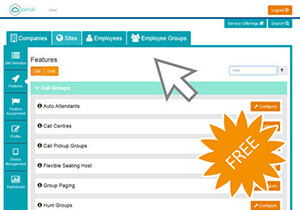 Free Configuration & Support
All our systems are configured in the cloud, so there are no configuration, installation or support charges. Our phones simply auto install when plugged in.
---
Small Business FREE System Features
From Start-Up, small businesses and SME companies, all the following features are included in the price, whatever size you are!
Call Analysis Reporting
Auto-Attendant
Custom Greetings
Voicemail
HD Calls
Advanced Call Groups
Conferencing (3 Way)
Click to Dial
Mobile App
Desktop App
Caller ID
Busy Status
Video Calls
Hot Desking
£10
per user/month
All users are £10 per month, with a wealth of free features. Pick & Mix additional features you need, whatever size you are from Start-Ups, SME's to Enterprise.
FREE 5000 Minutes Bundle
Included in the £10 a month is 5000 minutes a month per user of calls to UK 01/02/03 numbers and UK mobiles. Enough to cover an average businesses call needs.
FREE Configuration & Support
No hidden charges or fees, we setup and configure your system and offer fantastic UK support for free by our team here in Staffordshire!
Learn more about our cloud phone system...
Looking for VOIP and not a small business?
Our cloud phone system works for any size of business in the UK, up to enterprise level Learn more
VOIP has Evolved
Originally, VOIP systems were poor quality calls that ran over your Internet connection. However, this has now changed and VOIP phones have been replaced with Cloud Phone Systems. So, think of the new system as VOIP plus, where the VOIP calls still run over the Internet, but are now in high definition and work alongside physical phones and apps to make a completed feature rich phone system for UK businesses.
Our VOIP plus phone system runs from infrastructure here in the UK and is only for UK business. Our system is particularly popular with Small Business, as it can shrink and grow with you regardless of your business size and with no contract, you don't have to commit to anything!